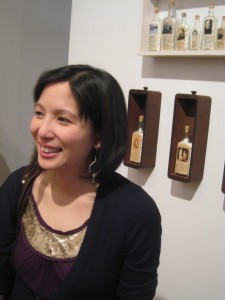 Monica Ong was trained as a visual artist but poetry has long been a part of her creative process. She joins FPP on January 28 to share her work, and we asked her a few questions about her influences, the act of translation, and cultural silence.
Which artists do you feel closest to and which have had the greatest impact on your work? I am deeply affected by many artists and writers. Shirin Neshat – the intersection of text, image, feminism, and cultural revolution in her work is so courageous. I love the audio walks by Janet Cardiff. Favorite artist-poets include Anne Carson and Susan Howe. As far as growing in my work, I owe a huge debt of gratitude to the poets of Kundiman and Cave Canem, organizations that foster Asian-American and African-American Poetry respectively – the poets I've met are not only examples of great writers, but generous spirits who don't hesitate to nourish and mentor others. It continues to astound and inspire me to this day. That's my shout out to Sarah Gambito and Randall Horton, as well as many others who know who they are.
Read more from the interview here: http://www.firstpersonpluralharlem.com/2013/01/18/the-fpp-interview-monica-ong/
Congrats, dear Monica!